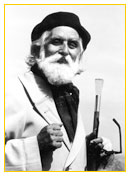 Excerpt from the Complete Works,
Vol 1

" What is a Master: A Master is someone who has achieved control, mastery of all his thoughts, feelings and acts […] To achieve comple control of all one's thoughts, feelings and acts implies the use of special methods, a special discipline and a profound knowledge not only of the structure of a human being, but also of the forces at work within him and the correspondences between his being (his organs and his several bodies) and the different realms of nature. To be master of oneself implies, also, that one is familiar with the entities of the invisible world and the structure of the entire universe. A Master is someone who has resolved all the essential problems of life, who is free, who possesses an extremely strong will and who, above all else, is full of love, kindness, gentleness and light. What a tremendous amount of work, and what concentrated study and perseverance it takes to become a Master.!
The power of a genuine Master lies in the fact that all his actions are in perfect accord with his philosophy. He is he first to practise, in his own life, what he preaches to others; he is a living example. And to be a living example is to be a fountainhead, a spring to which plants, animals and human beings are drawn. This is why there are always disciples round a Master. "